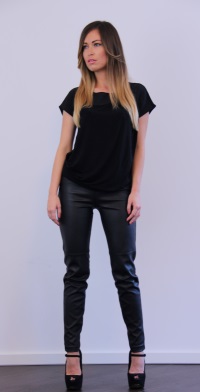 Lately, I´ve heard comments such us "Can I still wear my wet look leggings to go clubbing?" "Are these still fashionable?" It surprised me to see how many people came up with a big "NO" as an answer, and almost begged the girl to stick to normal leggings, for her own sake.
It is a fact that wet look leggings have been all over the place since at least 2008, and their prices have been going down. They are no longer an original or exclusive item, this is true, yet this fashionista can´t consider that enough reason to claim they're 'out'. Also, we still see them on celebrities and style divas.
To me, deciding what to wear doesn't hinge on sticking only to what´s fashionable in the abstract, but figuring out whether that piece of clothing looks good on me or not.
The first time a used this type of leggings was at a concert where I performed. They not only worked perfectly for moments on stage, but also were easily turned into an outfit to go clubbing afterwards. It´s pretty impressing how they stylize your contours. Seriously, somehow they manage to make your legs look slim and toned. They're fine even for day life if you are discrete enough, and use them with long shirts and flat shoes.
I personally think one of the greatest benefits of these items is how versatile they can be. Depending on what you combine them with, wet look leggings can make you look as a rock star or a hippie. However, whatever you do, don´t use them with knee high leather boots, unless you are seeking for a tacky, dominatrix style of course.
If there´s something about wet look leggings, it is that you do stand out while wearing them.  I assure you, the number of people who turn to look at me when I wear them is  greater than that when I wear normal leggings, not that I dress up for anyone else but myself, of course. I also found that vertical striped black and white leggings have a similar attraction effect but that´s a topic for another article.
Basically, wet look leggings should still be considered a useful fashion item that deserves to be part of any girl´s wardrobe. They are still fashionable, can stylize your contours,  look interesting and be absolutely hot.

Credit:
Judystalk says thanks to Marianne for the great article and Ivona 
for the fine image. fr6-2014is