Welcome to Jamaica, land of sea and sunshine!
Welcome to our visitors and residents returning home
If you are visiting, thank you for choosing Jamaica as your vacation place
This is only the beginning of a fantastic experience
I hope you will enjoy your stay here…
Those words were coming through the public address system, as the customer service agents approach the excited passengers who had just disembarked from Flight AA1397 at the Sangster International Airport (MBJ). The agents are very pleasant, smiling warmly as they walk towards persons waiting in the Immigration Hall. They offer their service to complete Immigration Forms and ensure that the esteemed visitors and residents alike, have all the documents in hand to present to the Immigration Officer.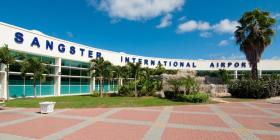 Image courtesy of www.mbjairport.com
That is just the start of a wonderful Jamaican vacation! I will give you a little background about Jamaica. Located in the Greater Antilles, surrounded by the Caribbean Sea, about 145 kilometres (90 miles) south of Cuba and 191 kilometres (119 miles) west of Haiti and the Dominican Republic, lies the island called Jamaica. Known for its great resorts, beaches and tons of interesting tourist attractions, Jamaica is a jewel in the Caribbean. Once you have chosen Jamaica as your vacation place, it will be very difficult to decide where you want to visit during your trip because there are numerous wonderful places to go and they all cannot be visited and enjoyed within a two-week trip!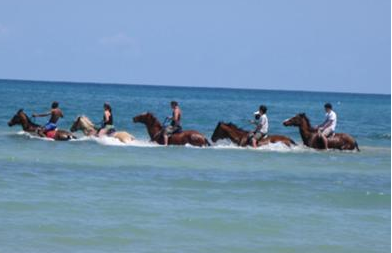 Imagine of horseback riding in Jamaica courtesy of: www.myislandjamaica.com/
Before you book your trip, you would have decided which town or city in Jamaica you are going to stay. Wherever you choose, you are in for an exciting, fun time! The major tourism centres are Ocho Rios, Montego Bay and Negril where you experience loads of sun, fun, beach and frolic to your heart's content, and then there are other towns such as Port Antonio, Black River and the capital city Kingston for quieter vacations. Community tourism is available, for persons who want to immerse themselves into the local culture to mix and mingle with the natives and experience how they live. For those persons more interested in history, there are lots of historical sites, museums, great houses, old plantation legacy etc. to see. The all-inclusive hotels offer tour packages where you can select the places you want to visit and they provide transportation to take you to and from those places.
Now, let us look at some of the resorts in each major tourism centre. Montego Bay is within comfortable driving distance from Ocho Rios and Negril. So you came through the Sangster International Airport, Jamaica's tourism gateway which is located right there in Montego Bay. If you had planned to stay in Montego Bay you would have made reservations at one of the fabulous all-inclusive resorts there; for example: Sandals Montego Bay, Iberostar Rose Hall, Round Hill Hotel & Villas, Hotel Riu Palace Jamaica, Sunset Beach Resort, Holiday Inn Sunspree Resort. These are only a few of the more than sixty hotels in Montego Bay alone! If your reservations were made for Negril, some of the possible choices would have been: Beaches Negril Resort & Spa, Sandals Negril, Grand Lido Negril, The Caves, Moon Dance Cliffs, ClubHotel Riu Negril among many others. In Ocho Rios and surrounding areas you could have booked any of these or choose from dozens of others: The Jewel Dunns River, Franklyn D Resorts, Jamaica Inn, Sunset Jamaica Grande, Luxury Grande Bahia Principe, Sand Castles Resort. Those are only very, very few examples of great places to stay while vacationing in Jamaica. The property owners and staff roll over backwards to ensure that the food is superb, the staff is courteous and friendly and the entertainment is out of this world!
Apart from the grand entertainment provided by the hotel, the breathtaking beaches with their therapeutic waters, the awesome spa treatments available, the exquisite restaurants and other on-property comforts and attractions, how else will you spend your vacation? As was mentioned earlier, there are tours arranged by the hotels as part of your vacation package, or you can choose your additional attractions while you are there. Here are some of the great places to visit and things to do. Fasten your seatbelt!
Take a trip to Dunn's River Falls and Water Park just outside of Ocho Rios. This is a well known place for craft, sea, sun, adventure and relaxation. It is described on www.dunnsriverja.com as "one of Jamaica's national treasures." Your tour guide will take you to Dunn's River and ensure that you have a great time climbing the different levels of the falls, enjoying the therapeutic waters and simply having fun.


Images of climbing the falls and craft items on sale courtesy of:

www.dunnsriverfallsja.com

Go rafting on the Martha Brae River in Falmouth, Trelawny, the home parish of Usain Bolt, the fastest man alive and Jamaica's living legend. Visitors are met in their hotel lobby and taken by bus for an adventure. The journey in itself is an adventure through Jamaica's towns and villages, then for a ride on a bamboo raft down the scenic Martha Brae River. There is live entertainment by the providers of the service. Rafting is also done on the Rio Grande River in Portland.

Image courtesy of: www.jamaicarafting.com

Experience the tropical ambience of the award-winning Dolphin Cove, located a little outside of the town of Ocho Rios. Here you will be able to swim and interact with the dolphins, go for glass-bottom kayak and mini-boat rides, enjoy wildlife such as snakes, birds, spiders and iguanas, snorkel with sting rays and then just relax on the beach or have lunch while you become a pirate for the day at "Little Port Royal". There is also a fascinating shark show! The property is a natural cove which is surrounded by a wonderful rain forest.


Images courtesy of: www.dolphincoveja.com

If you really love the rain forest and if you love the mountains, it is twice the joy to spend a day at Mystic Mountain Rain Forest. You experience a thrilling, once in a lifetime adventure as you ride on the chair lift up the mountain. The view of the sea and the town of Ocho Rios down below is absolutely awesome. Once you are there, you can enjoy the restaurant, bar and museum (which focuses on the Jamaican Bob sled team). You can also go bobsledding on a trail through the mountain. Other attractions include the canopy zipline, sky explorer, mystic pavilion, a butterfly garden and a humming bird garden and there is also the infinity edge pool and mystic waterslide. Packages with the various rides are available. It is not advisable to visit on a cruise ship day as there are more persons there on those days.


Images courtesy of: www.things-to-do-in-jamaica.com

The Zion Bus Tour is a must if you are a lover of Jamaica's reggae music and Bob Marley. You are accompanied by a dreadlocked driver and tour guide who tell you about the life of Bob Marley as he grew up in that part of Jamaica. Listen to the music of the king of reggae as the bus takes you through the rural communities of the parish of St. Ann to the house where Bob Marley was born and his final resting place. Stop en route for a complimentary local dish of jerk, rice and peas, festival or some other Jamaican dish available on that day.

Image courtesy of: www.lonelyplanet.com

Lovers of hiking can take a trip up the Blue Mountain trail. This is the home of Jamaica's Blue Mountain coffee, the best there is in the world! The hike begins at about 4,000 ft. and ends at the mountain peak which is over 7,000 ft., so this is definitely not for the faint hearted. If you are going to ride, this begins at about 6,000 ft. and ends at the waterfalls. Enjoy nature and the warmth of the residents as you climb and look downwards at the spectacular, breathtaking view below. Bask in the loveliness of the flora, fauna and take a swim at the waterfalls. If you overnight, you will be able to see the beautiful sunrise from the mountain (see third image below)!


Images courtesy of: www.things-to-do-in-jamaica.com

Visit Jamaica's south coast, the hidden side of Jamaica, and take a boat or kayak ride on the Black River Safari. Travel six miles up the river through the biggest wetland area in Jamaica and watch the crocodiles all around you. As your tour guide navigates the river he explains about the wild life and the various organisms in the area and the history. Three different types of mangrove and over 100 species of birds are said to inhabit the Black River Morass. These birds are also seen as you travel along the river.


Images courtesy of: http://www.whitewaterraftingmontegobay.com/black-river.html
As I had indicated before, these are only a very, very few of the many attractions and things to do in Jamaica. There are numerous other options to explore as you think of vacationing here.
Now, there's only one thing left to do – book your vacation and go on over for a Jamaican vacation!